Unlike Ron, we share a loving relationship with technology.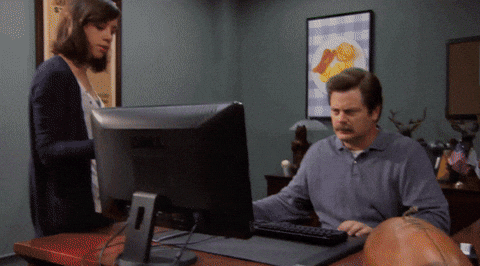 Assuming you share a similar relationship, we made sure U32 was teched out. The last thing we want is a community of frustrated residents yelling at a buffering wheel.
All To Yourself
With over 60 miles of wire running throughout the building, each resident is given the pleasure of receiving their own internet/cable TV account. Although we highly encourage residents to share laughs, experiences, and memories, we won't make you share bandwidth.
Always Connected
Because internet isn't shared among units, you might be wondering – what happens to my connection when I'm at the fitness center, lounge, outdoor courtyard, or any other community area at U32?
No matter where you are at U32, you are always connected. Stream music while working out, watch a TV show with friends while sitting by the fire, or peacefully get work done in a study room or lounge area. 
Freaky Fast
Oh, and did we mention it's fast? We talkin' as fast as you avoid small talk with a person you 'knew of but didn't know' in high school. With 200 Mbps download and upload speed, you will never Hulk-squeeze a remote, or yell grown-up words at your computer, again.
Bluetooth Speaker Bliss
Whether you admit it or not, we have all dreamed – for a least a second – of being a DJ. With over 20 Bluetooth-enabled speakers throughout the common areas, fitness center, swimming pool, patio, and courtyard,  connect and enjoy.
All-Inclusive
As part of our dedication to an all-inclusive lifestyle, all this wonderfulness is on-the-house. To learn more about our all-inclusive living, check our 'One Bill. No Bull.' page.